Vegan Sheet Pan Cauliflower Fajitas. Peppers, onions, cauliflower and taco seasoning come together to make a mouthwatering meal that is ready in just 30 minutes.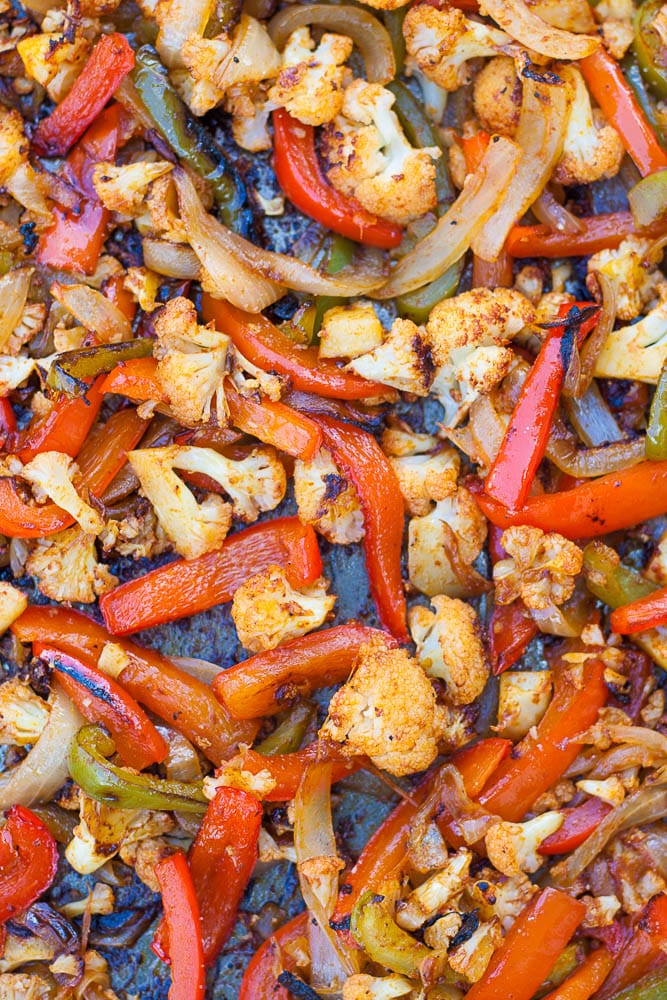 I've seen a lot of cauliflower "meat" recipes floating around the internet lately. So I guess it wasn't a huge surprise when this recipe idea came to me. I wanted to add something to Fajitas that would "stand in" for the usual meat. Yeah, I could just use beans, but I didn't want to do that. Don't get me wrong, I LOVE beans, but I just wanted something different for these.
Enter, the amazing Cauliflower.
If you're hesitant about cauliflower, don't be! Give it a try. Roasted cauliflower is AMAZING. It's a completely different experience than raw or steamed cauliflower.
Chop up your cauliflower pretty small, along with red and green peppers, an onion and some homemade (or storebought) taco seasoning. Put everything in a large bowl along with a couple tablespoons of olive oil (or water if you want it to be oil-free) and mix until combined.
Dump the mixture onto a large sheet pan or two smaller sheet pans and roast for 20-25 minutes at 425 degrees. If you don't use oil, it helps to use silicone mats or parchment paper to prevent sticking.
Serve on corn tortillas with spanish rice and beans on the side. Add some guacamole, salsa, or cashew sour cream if you wish. Enjoy!
Can't get enough cauliflower? Try this Buffalo Cauliflower Bowl!
If you make this recipe, let me know how it goes! Rate it, leave a comment and tag a photo @noracooksplantbased on Instagram. Enjoy!
Sheet Pan Cauliflower Fajitas
Ingredients
1

large head cauliflower, chopped small

2

red peppers, sliced into 1/4 inch slices

2

green peppers, sliced into 1/4 inch slices

1

medium onion, sliced lengthwise,into 1/4 inch slices

2

tbsp

olive oil *optional, use water for oil free

1

tsp

salt, or to taste
Spice Mix
1

tbsp

chili powder

1

tsp

cumin

1/2

tsp

paprika

1/4

tsp

garlic powder

1/4

tsp

onion powder
Instructions
Preheat oven to 425 degrees and spray a large sheet pan or two smaller sheet pans with oil. Or cover in parchment paper or use a silicone mat if avoiding oil.

Add all spices to a small bowl and mix. Set aside.

Place the chopped cauliflower, peppers, onions, spice mixture and olive oil (if using) in a large bowl. Mix well.

Add the mixture to sheet pan(s) and roast for 20-25 minutes.

Serve on corn or flour tortillas alongside rice and beans. Add guacamole, cashew sour cream or other desired toppings.